Zunami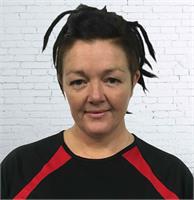 Zunami White is Co-Director of Guardian Defence and our Senior Krav Maga Instructor. She has over 8 years of experience as an Advanced Civilian Krav Maga Instructor, certified under Tactical Krav Maga (2009) and recently earned the rank of Senior Krav Maga Instructor under Guardian Krav Maga (2017).
She has trained with some of the world's most elite instructors including Prof. Itay Gil, Ran Nakash, Avi Abeceedon, Roy Faiga, Raymond Floro and Dave Paulii (ISR Matrix). Zunami is the world's first female to be certified as an instructor in Floro Fighting System's edged weapons defence, trained exclusively by Raymond Floro.

Zunami specialises in civilian self defence and corporate workshops. She employs a teaching focus on Krav Maga conceptual and scenario training throughout her regular classes. Her passion lies in Women's self defence, which has seen her work extensively with the Victims of Crime Tribunal, community groups, private training and workshops across the country.
Zunami has featured in several publications in relation to self defence training including the Herald Sun and The Age newspapers and the soon to be released ABC documentary – Keeping Australia Safe
Zunami instructs the following:
Open to all levels of experience this class will cover topics relevant to the ongoing learning of the participants.




Let us get the ball rolling and book into your first training session. This intro session will cover everything you need to know to step into your first group class with confidence.


We are proud of the safe and friendly training environment here at Guardian, and the key to this is having everyone on the same page when it comes to safety and training etiquette. Our intro sessions ensure that whether you have trained before or not, you will understand what you can expect from us and your fellow students, as well as what is expected of you.

Your Intro will cover: Tour of the facility, Club Rules, Training etiquette, Uniform, and clothing requirements, First-aid and safety information, Membership options, Physical skills: Stance, Movement, Basic Strikes, How to hold pads for your training partner with safety and comfort, Protective Gear (when to use it and how it works), Ranking procedure.

Please wear comfortable clothes and bring some water to drink.