AJ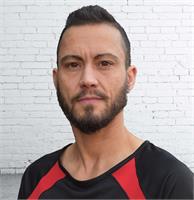 Co-Director of Guardian Defence, AJ heads up Guardian Krav Maga as Chief Instructor, using his many years of experience to guide and formulate the system and syllabus.
Motivated by seeing his friend attacked, AJ started his martial arts journey in 2000, firstly learning Taekwondo (World Taekwondo Federation), and then going on to study Kobudo (Okinawa International Kobudo Australia). He started assisting with classes in 2002, went on to attain a First Degree Black Belt in both styles, and began teaching both at the Academy of Martial Arts in Sydney from 2004.
His interest and study of Krav Maga began in 2002, and he went on to become certified as an Advanced Civilian Krav Maga Instructor by Prof. Itay Gil of Protect Krav Maga in 2006. He has since gone on to be certified as Krav Maga Chief Instructor by Tactical Krav Maga, Krav Maga Practical Instructor by Wingate Institute (Israel), Youth Krav Maga Instructor by Combat Krav Maga, Floro Fighting Systems Instructor by Raymond Floro, (Floro Fighting Systems).
AJ continues his association with Prof Gil (former Chief Instructor of the Israeli counter terror and hostage rescue unit YAMAM) and has also trained with the likes of: Roy Faiga (Shi-Heun Krav Maga, Wingate Institute); Avi Abeceedon (10 Dan Degree, K.A.M.I - Israeli Krav Magen Assoc.); Ran Nakash (former Chief Commander of Krav Maga Instructional Unit within the Israeli Defence Force (IDF)); Danny Netzer (Chief Commander of the Krav Maga Instruction Unit, IDF); Itay Danenberg (KMI), John Whitman (Krav Maga Alliance); Roy Elghanayan (Krav Maga LA); Lior Offenbach (Combat Krav Maga); Ray Floro (Floro Fighting Systems); Richard Dimitri (SAFE International, Senshido); Chris Roberts (SAFE International); Dave Pauli (ISR Matrix).
He is also a certified Personal Trainer and has being called upon many times, as an expert in self-defence for national print publications, television and radio.
AJ instructs the following:
After completing your Induction Class. This is where you will start your self-defence learning journey. An open level class which works on empty-hand striking and movement skills and their practical application, including pre-fight, this class is perfect for beginners.




Let us get the ball rolling and book into your first training session. This intro session will cover everything you need to know to step into your first group class with confidence.


We are proud of the safe and friendly training environment here at Guardian, and the key to this is having everyone on the same page when it comes to safety and training etiquette. Our intro sessions ensure that whether you have trained before or not, you will understand what you can expect from us and your fellow students, as well as what is expected of you.

Your Intro will cover: Tour of the facility, Club Rules, Training etiquette, Uniform, and clothing requirements, First-aid and safety information, Membership options, Physical skills: Stance, Movement, Basic Strikes, How to hold pads for your training partner with safety and comfort, Protective Gear (when to use it and how it works), Ranking procedure.

Please wear comfortable clothes and bring some water to drink.




This class prepares students for black rank, double black and triple black testing. Focusing on integration of previously learnt techniques, as well as knife and firearms threats, multiple threats and third-party defence skills.




This class is open to those holding a Orange Rank or higher. It will cover the syllabus for Purple, Brown, & Red rank assessment.

Full protective equipment kit is required.




Open to all levels of experience this class will cover topics relevant to the ongoing learning of the participants.




Teens have never been more in need of strong self-defence skills. As they start to venture out into the world without you by their side, you can rest in the knowledge that they will take with them the physical and mental skills to look out for themselves.

So get your kids enrolled now and set them up for a life full of confidence, fun and fitness.




This class is open to those ranked Green band or above. In addition to the foundation techniques, it will focus on extensions on previously learnt techniques as well as more advanced techniques and concepts.




This is a closed session for Guardian Krav Maga Instructors only.

Instructors, please book in to confirm attendance.