Rick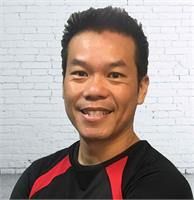 Rick commenced his martial journey when he was 14yo and has progressively evolved as a practitioner and an instructor over the 30 plus years. With his thirteen years professional background as a soldier in the elite airborne unit of the Australian Army and his multiple operational deployment into theatre of conflicts around the globe, Rick has developed a keen sense of what a real-world threat consists of and how best to prepare for the physical and psychological threats that one may encounter. He has a unique style of transmitting his skill sets, of not just the technical aspects of self-defence but also of critical threat and crisis management to his students, which comes from his practical experience and many years of training and instructing members of his unit and the wider military community. His martial experience is backed up and reinforced by his real-world encounters during deployments both on combat operations and on humanitarian missions.
Rick has a background in traditional martial arts which includes Tae Kwon Do, Hapkido, Karate, Silat and Kali and is a Military Unarmed Combat exponent. He has also cross trained with distinguished practitioners of the martial world like Kuya Doug Marcaida of Marcaida Kali, Maul Mornie of SSBD (Silat), Roy Faiga of Shi-Heun Krav Maga, Guro Mark Stuart of Boxer Rebellion International, Graham Cook of Total Martial arts, Guro Evan Tai of SCMT International and Sifu Jack Leung of Practical Wing Chung Australia.
Rick is a qualified practical Krav Maga instructor certified by Wingate Institute, the Israeli institute of sports under the guidance of Roy Faiga (Israeli Special Operations, Army).
Rick instructs the following:
This Foundation 2 class will look at Defence against grabs, holds, falls, and chokes.

Hold a minimum of White Rank. Minimum protective equipment required includes Head guard with face grill, fingerless gloves with padded knuckles, elbow guards, groin guard and mouth guard.




This class will focus on creating a greater understanding and awareness of weapons that we may encounter whilst defending ourselves, such as knives and sticks.

We will also learn about how other fighting systems use these types of weapons, so that we are in a better position to counter any trained attackers that we may come up against in a self-defence context.