Zunami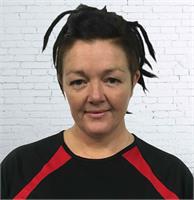 Zunami White is Co-Director of Guardian Defence and our Senior Krav Maga Instructor. She has over 8 years of experience as an Advanced Civilian Krav Maga Instructor, certified under Tactical Krav Maga (2009) and recently earned the rank of Senior Krav Maga Instructor under Guardian Krav Maga (2017).
She has trained with some of the world's most elite instructors including Prof. Itay Gil, Ran Nakash, Avi Abeceedon, Roy Faiga, Raymond Floro and Dave Paulii (ISR Matrix). Zunami is the world's first female to be certified as an instructor in Floro Fighting System's edged weapons defence, trained exclusively by Raymond Floro.

Zunami specialises in civilian self defence and corporate workshops. She employs a teaching focus on Krav Maga conceptual and scenario training throughout her regular classes. Her passion lies in Women's self defence, which has seen her work extensively with the Victims of Crime Tribunal, community groups, private training and workshops across the country.
Zunami has featured in several publications in relation to self defence training including the Herald Sun and The Age newspapers and the soon to be released ABC documentary – Keeping Australia Safe
Zunami instructs the following:
This Foundation 2 class will look at Defence against grabs, holds, falls, and chokes.

Hold a minimum of White Rank. Minimum protective equipment required includes Head guard with face grill, fingerless gloves with padded knuckles, elbow guards, groin guard and mouth guard.




This Intermediate 1 class will cover syllabus for the Green & Blue Ranks. Full protective equipment kit is required.




This class is open to those holding a Orange Rank or higher. It will cover the syllabus for Purple, Brown, & Red rank assessment.

Full protective equipment kit is required.




Open level class which works on empty-hand striking and movement skills and their practical application, including pre-fight.