Zunami White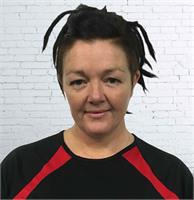 Zunami White is Co-Director of Guardian Defence and our Senior Krav Maga Instructor. She has over 8 years of experience as an Advanced Civilian Krav Maga Instructor, certified under Tactical Krav Maga (2009) and recently earned the rank of Senior Krav Maga Instructor under Guardian Krav Maga (2017).
She has trained with some of the world's most elite instructors including Prof. Itay Gil, Ran Nakash, Avi Abeceedon, Roy Faiga, Raymond Floro and Dave Paulii (ISR Matrix). Zunami is the world's first female to be certified as an instructor in Floro Fighting System's edged weapons defence, trained exclusively by Raymond Floro.

Zunami specialises in civilian self defence and corporate workshops. She employs a teaching focus on Krav Maga conceptual and scenario training throughout her regular classes. Her passion lies in Women's self defence, which has seen her work extensively with the Victims of Crime Tribunal, community groups, private training and workshops across the country.
Zunami has featured in several publications in relation to self defence training including the Herald Sun and The Age newspapers and the soon to be released ABC documentary – Keeping Australia Safe
Zunami White instructs the following:
This course is a great way to learn 'street ready' self-defence skills. Get your friends together and have some fun while you learn awesome techniques with one of our female Krav Maga instructors. Krav Maga is one of the most realistic and effective self-defence systems in the world! No experience necessary.



Topics Covered:

Threat Assessment - Recognising when you are in danger Verbal De-escalation
Distancing, and Environmental Awareness - Skills to prevent potentially volatile situations from escalating
Disengaging - How to remove yourself from the 'danger zone'
Improvised Weapons - Utilising the environment to protect yourself
Priority Targets & Striking skills (Upper and lower body)
Releases from grabs or holds

Just $129 or bring a friend and save 25%!

Guardian Members train free.




Open level class which works on empty-hand striking and movement skills and their practical application, including pre-fight.




This level 2 class will look at empty-hand and armed (improvised tools) responses to common empty-hand attacks, knife attacks, bludgeon attacks.

Hold a minimum of White Rank. Must begin this level training at start of a term. Full protective gear required.




This class prepares students for black rank, double black and triple black testing. Focusing on integration of previously learnt techniques, as well as knife and firearms threats, multiple threats and third-party defence skills.




This class is open to those holding a green rank or higher. It will cover the syllabus for Blue, Purple, Brown, & Red rank assessment.




Teens have never been more in need of strong self-defence skills. As they start to venture out into the world without you by their side, you can rest in the knowledge that they will take with them the physical and mental skills to look out for themselves.

So get your kids enrolled now and set them up for a life full of confidence, fun and fitness.




Open to all levels of experience this class will cover topics relevant to the ongoing learning of the participants.