AJ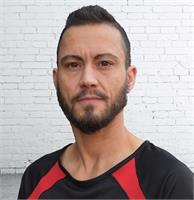 Co-Director of Guardian Defence, AJ heads up Guardian Krav Maga as Chief Instructor, using his many years of experience to guide and formulate the system and syllabus.
Motivated by seeing his friend attacked, AJ started his martial arts journey in 2000, firstly learning Taekwondo (World Taekwondo Federation), and then going on to study Kobudo (Okinawa International Kobudo Australia). He started assisting with classes in 2002, went on to attain a First Degree Black Belt in both styles, and began teaching both at the Academy of Martial Arts in Sydney from 2004.
His interest and study of Krav Maga began in 2002, and he went on to become certified as an Advanced Civilian Krav Maga Instructor by Prof. Itay Gil of Protect Krav Maga in 2006. He has since gone on to be certified as Krav Maga Chief Instructor by Tactical Krav Maga, Krav Maga Practical Instructor by Wingate Institute (Israel), Youth Krav Maga Instructor by Combat Krav Maga, Floro Fighting Systems Instructor by Raymond Floro, (Floro Fighting Systems), Dave Paulii (ISR Matrix).
AJ continues his association with Prof Gil (former Chief Instructor of the Israeli counter terror and hostage rescue unit YAMAM) and has also trained with the likes of: Roy Faiga (Shi-Heun Krav Maga, Wingate Institute); Avi Abeceedon (10 Dan Degree, K.A.M.I - Israeli Krav Magen Assoc.); Ran Nakash (former Chief Commander of Krav Maga Instructional Unit within the Israeli Defence Force (IDF)); Danny Netzer (Chief Commander of the Krav Maga Instruction Unit, IDF); Itay Danenberg (KMI), John Whitman (Krav Maga Alliance); Roy Elghanayan (Krav Maga LA); Lior Offenbach (Combat Krav Maga); Ray Floro (Floro Fighting Systems); Richard Dimitri (SAFE International, Senshido); Chris Roberts (SAFE International).
He is also a certified Personal Trainer and has being called upon many times, as an expert in self-defence for national print publications, television and radio.
AJ instructs the following:
We understand the position bar staff are placed in on a daily basis at work and on their trip home. During this three hour workshop you will learn how to deescalate situations, as well as what to do if they flare up into a violent encounter.

This tailored training experience will give you the confidence to physically deal with threatening situations such as sexual harassment and physical violence. From grabs and chokes releases, through to the utilisation of your space and surroundings to increase your ability to defend. You will gain the physical and emotional confidence to protect yourself should the need arise.