Guardian Staff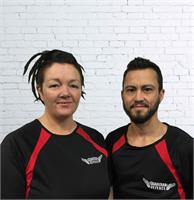 AJ & Zunami are Co-Directors of Guardian Health & Fitness. Together they have over 28 years of martial arts training experience and over 19 years teaching experience.
They have a passion for creating a safe and welcoming training environment, and making self-defence accessible to everyone.
Guardian Staff instructs the following:
Open level class which works on empty-hand striking and movement skills and their practical application, including pre-fight.




This level 2 class will look at empty-hand and armed (improvised tools) responses to common empty-hand attacks, knife attacks, bludgeon attacks.

Hold a minimum of White Rank. Must begin this level training at start of a term. Full protective gear required.




This class prepares students for black rank, double black and triple black testing. Focusing on integration of previously learnt techniques, as well as knife and firearms threats, multiple threats and third-party defence skills.




This class is open to those holding a green rank or higher. It will cover the syllabus for Blue, Purple, Brown, & Red rank assessment.




Teens have never been more in need of strong self-defence skills. As they start to venture out into the world without you by their side, you can rest in the knowledge that they will take with them the physical and mental skills to look out for themselves.

So get your kids enrolled now and set them up for a life full of confidence, fun and fitness.




Open to all levels of experience this class will cover topics relevant to the ongoing learning of the participants.