Guardian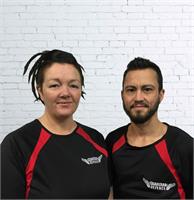 AJ & Zunami are Co-Directors of Guardian Health & Fitness. Together they have over 28 years of martial arts training experience and over 19 years teaching experience.
They have a passion for creating a safe and welcoming training environment, and making self-defence accessible to everyone.
Guardian instructs the following:
When an attacker grabs you, attaches to you, it escalates the danger you are in. You can no longer leave. Your balance is compromised. You may have pressure around your throat, a life threatening event.

This intensive training workshop will provide you the skills to overcome such attacks. Utilising simple yet highly effective techniques that are NOT reliant on strength. You will learn, and become competent in, the skills that could very well save your life.

This event is not to be missed. No experience necessary. Moderate level fitness is beneficial, however you can train at your level.

Students yet to complete their Gold or Orange Rank in Guardian Krav Maga will find this intensive training session invaluable in cementing their knowledge and effectiveness.

Cost $80

Member's Discount will be applied at checkout. (Limited - 10%, Unlimited 15%)




Teens have never been more in need of strong self-defence skills. As they start to venture out into the world without you by their side, you can rest in the knowledge that they will take with them the physical and mental skills to look out for themselves.

So get your kids enrolled now and set them up for a life full of confidence, fun and fitness.




This class is open to those ranked orange band or above. In addition to the foundation techniques, it will focus on extensions on previously learnt techniques as well as more advanced techniques and concepts.