Simon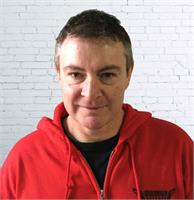 Simon Rankmore is one of the most recent instructors to join our team, certified under Protect Krav Maga (Prof. Itay Gil) and Guardian Krav Maga (AJ Kearns) having trained with us since 2012. His classes have a strong focus on striking techniques, having practiced boxing since 2002, being trained by some of Australia's elite National and State champions.
Accredited by FightFit, Simon has been teaching boxing classes at Guardian Defence since 2016, bringing his wealth of accumulated knowledge to each session.
Simon instructs the following:
Open level class which works on empty-hand striking and movement skills and their practical application, including pre-fight.




Boxing is widely regarded as one of the greatest ways to burn calories and get a whole body workout. This class will give you all that whilst still giving you great technique improvements. Learn punches, body movement, fighting technique and more.

Wear comfortable clothes, bare feet or martial arts shoes, and bring boxing gloves, mouth guard, wraps and head guard if you have them.